Customer Reviews
01/10/2021
Ali A.

Saudi Arabia
Good
Good quality of honey
12/05/2020
Anonymous

Saudi Arabia
Very High quality
I tried the honey two time for stomach issue. After completing couree of daily taking small spone I get well. Very high quality and pure honey. Thank you
10/01/2020
miguel g.

United States
04/19/2020
Anonymous

Saudi Arabia
Thank you so much
I love it I advise everyone about this high-end service, the best price, high quality, fast delivery without problems in the wonderful packaging, the little white manuka box I liked it so everything is really great The real manuka taste but I have a note is the plastic jar Some have a problem with that if I replace it with a glass jar.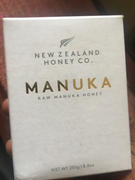 04/08/2020
Rami S.

United Kingdom
Great Healthy daily add on
Taste is great not sore nor sugary, mild and reduced my coughing To zero. Tea spoon a day early morning or with my morning coffee.
03/06/2020
Abuyusuf

Oman
Manuka high potency 1000+
It is very nutritious , tastes slightly bitter but delicious , tolerable sweetness and gives you power for the day with less fatigue
01/12/2020
Anonymous

Kuwait
Manuka honey
The product was perfect.
01/07/2020
Anonymous

Saudi Arabia
Greatest quality
Taste of life.
12/28/2019
German

United States
WOW, the Best
Best ever, I'm getting this every month.
12/09/2019
Anonymous

United Arab Emirates
my comment
fantastic and tasty
12/02/2019
Abdulrahman A.

United Kingdom
Great Honey Ever
When i taste it i hate every other honey types
11/20/2019
Anonymous

Turkey
Excellent :)
One of the best company I ever dealt with. I do recommend them. They are No. 1 for Honey. From: AA
10/25/2019
Khalid A.

Saudi Arabia
Very excellent and wonderful honey Thanks
Very excellent and wonderful honey Thanks I will increase my quantity soon Thanks
Is the container made of glass? And how many months does this honey can last if the container is open?

The container is a BPA free, recyclable plastic jar. We recommend you keep honey, whether open or closed, below 20°C/68°F in a shaded location. Over time honey may change in consistency based on how it is stored - some crystallisation and colour variation may occur, but this does not necessarily change the quality of the honey. It can last for an indefinite period of time - well beyond months.