Different hair types need different levels of care. African American hair can be more prone to dryness and breakage, so hydration is key.
Honey offers fantastic natural benefits for hair, and manuka honey is particularly potent in antibacterial, anti-inflammatory, and humectant properties.
This means it can help to repair, restore, and hydrate African American hair when used correctly. With just a few ingredients, you can make your own manuka honey hair mask for black hair at home.
Let's talk about hair, more specifically African American hair. Unique in texture, with a wide variety of curl, kink and coil patterns, that come with the ability to be styled in a myriad of beautiful ways.  
Maintaining a head of truly nourished and hydrated curls can be a challenge for many, as black hair can have a tendency towards dryness and breakage. This is mainly down to the shape of the hair shaft. The natural scalp oil (sebum) is unable to travel all the way down the hair shaft due to its curled structure. This leaves the hair lacking in essential moisture and often means that the hair has to be nourished from the outside, to ensure the hair is healthy and well hydrated from the roots to the ends.
You'll be surprised to learn of all the wonderful ways that manuka honey can boost the health of black and naturally curly hair. A great natural solution, with a huge host of hair loving benefits, that will improve the health of both your hair and scalp. Keep reading to learn more about why manuka honey is an essential part of your hair care routine and how to make our super hydrating hair mask for your happiest ever curls.
In this guide to manuka honey hair masks for black hair:
The basics of moisturising black hair

4 reasons why honey is good for African American hair

Create your own manuka honey hair moisturiser for black hair

The best manuka honey scalp moisturiser

Where to get premium manuka honey for hair
Keen to skip to the hair mask recipe?
Scroll down for easy step-by-step instructions.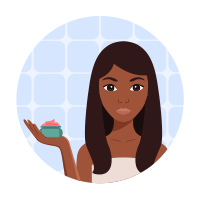 The Basics of Moisturising Black Hair
"Black hair is diverse and versatile. Tightly coiled hair can be prone to dryness and breakage, so treating the hair gently and boosting the level of moisture is key to keeping it healthy."
Although all hair types have the same basic chemical composition, their condition can vary drastically depending on things like genetics, lifestyle, and health¹.
When it comes to dryness, it seems that African American people have it particularly tough.
Research shows that people of African descent²:
Have thinner hair cuticle layers³. The outer layer of our hair, its cuticle layer, protects it from damage. So a thinner layer leads to more breakage.
Have up to a third fewer hair follicles than people of white descent. This may make hair loss more noticeable and expose the scalp.
Are more prone to dry scalps due to their curlier hair. The shape of the hair makes it difficult for our skin's natural oil, sebum, to move from the scalp to the hair shaft to lock in moisture.
So, African American hair needs a little extra tender loving care to stay healthy and shiny.
Is there much you can do about it?
Of course! The key to taking care of black hair is to replenish, restore, and protect its moisture².
Here's how.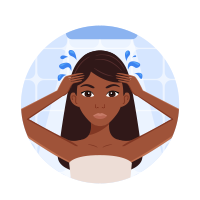 Wash your hair once weekly (or less)
When we wash our hair, we strip it of any care products we've used and the natural sebum (oil) our scalp produces to keep it hydrated⁴.
And some shampoos can contain harsh chemicals that make the problem worse.
The American Academy recommends washing African American hair once a week.
This should help to clear the build up of products without losing much moisture.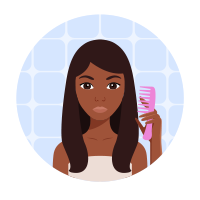 Comb your hair when it's wet
Combing dry hair may snap the strands that are already more fragile.
The best way to tease those tangles out is to lather up your hair in a moisturiser (like honey, but we'll get to that), or apply a leave-in conditioner, and take it one section at a time.
Use gentle strokes on your hair and move from ends to roots.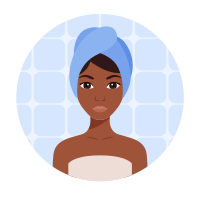 Wrap it while you sleep
Our pillowcases can cause damage to hair in two ways:
They cause friction when we move, and,
They may absorb some of the moisture from our hair and scalp.
By using a silk or satin hair cover, or the same fabric pillowcase, you can avoid this extra dryness.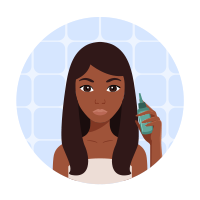 Use a leave-in black hair moisturiser
"Leave-in conditioner can be all it takes to give your hair a boost of shine, bounce, curl, or irresistible softness."
Coconut oil is often recommended for black hair, but if the hair itself is dry and brittle, it will just coat the dryness⁵.
The key to hydration is water. Adding anything else on top of your hair will only lock in what's already there (or not there).
Leave-in homemade honey hair masks for black hair can help you to build hydration over time⁶. Plus they're natural, fun and easy to make. Simply apply the mask while you sleep or a few hours before rinsing it off.
4 Benefits of Honey for African American Hair
"Due to honey's therapeutic properties, it's been used in hair rinses and conditioners for centuries. Today, it's still a popular natural ingredient in many types of hair care products."
Research suggests that honey is fantastic for hair⁷.
And its main benefits include hydration and strengthening - two things that African American people's hair needs in particular.
It's also been associated with protecting hair against loss and breakage.
"More than half of African American women will cite thinning hair or hair loss as their top hair concern."
With its humectant, emollient, antibacterial and anti-inflammatory properties, honey is a promising treatment for African American hair.
And with the most potent benefits, manuka honey comes out on top.
1 ingredient. 2000 natural compounds.
Let's explore the science behind honey on black hair.
1. Honey conditions black hair
Honey has emollient and humectant qualities⁸ which means that it draws moisture from the air and locks it in.
This is perfect for repairing damaged hair and can make it look and feel softer, too.
2. Honey helps to boost black hair growth
Research has shown that honey can boost the regeneration of our skin cells⁹.
This is great for our hair because the scalp needs plenty of these healthy cells to support follicles and ducts⁷.
3. Honey strengthens black hair
Honey can help to rebuild and restore the structure of black hair due to its protein content.
This, combined with its other minerals and vitamins, can help to repair broken and damaged bonds⁷.
4. Honey protects and soothes the scalp
Manuka honey is used for all sorts of mild to severe skin conditions including acne, eczema, psoriasis¹⁰, and dermatitis⁸.
By adding manuka honey to your scalp, you can help protect, soothe, and heal dry or damaged skin and hair follicles naturally.
So should you put honey in your hair as a mask?
Yes, you absolutely should.
Manuka honey can rebuild, restore, hydrate, and soften African American hair naturally.
What's not to love?
Homemade Manuka Honey Hair Masks for Black Hair
The best way to use manuka honey on African American hair is as a homemade hair treatment.
That way, you can build up lost moisture and protect it for lasting elasticity, strength, and shine.
Making a natural black hair moisturiser is fun, easy, and requires ingredients that you probably already have in your pantry.
Plus, you can jazz it up with different nutrient-packed add-ons and essential oils.
Make your difference delicious.
Here's what you need.
Manuka honey
Manuka honey should form the base of your black hair moisturiser.
Packed full of good stuff, this honey will help to bring back strength and shine to your hair.
Always opt for UMF™-graded manuka honey. This has been rigorously tested to the strictest standards for the industry, which is important considering there are so many fakes on the market.
The higher the UMF™ grade, the more potent its antibacterial properties are. The highest grades are even used for serious medical issues.
For the purposes of your homemade hair mask, we recommend one of the lower or mid-range grades:
The benefit of opting for the slightly higher UMF™ options is that you can use your manuka honey for a wide range of other things, too.
In fact, here's over 170 ideas!
How much to use: Add 1 tablespoon of manuka honey to your hair mask.
Distilled or purified water
When it comes to hydration, water is king.
You need to replace the lost water in your hair to restore its elasticity and strength.
Distilled water has been boiled, and the steam condensed back into a liquid. Purified water has been cleansed of its salts and other impurities through osmosis or deionisation¹¹.
The benefit of opting for this slightly fancier water is that any heavy metals or chemicals that might have been present in the water have been removed.
You are only locking pure, natural water into your hair.
You can distill or purify water at home, but it is a bit of a lengthy process.
So if you're not keen on that, using tap water is the next best thing.
How much to use: Add ¼ cup of water to your hair mask.
Optional extras
Now for the fun part.
Choose from a range of extra ingredients to add extra nutrients and natural fragrances to your hair mask.
Adding olive oil, coconut oil, argan, jojoba, avocado, or sweet almond oil to your natural black hair moisturiser will help to lock in the honey and other ingredients while they get to work. Add 1 tbsp.
Essential oils can add a touch of indulgence to your homemade mask. Classic choices for hair include geranium, lavender, grapefruit, and ylang-ylang. Many of these are associated with hair growth, hydration, and shine. Add 8-10 drops.
Softening and conditioning hair without weighing it down, coconut milk is a great hydrator and smells delightful, too. Add 2 tbsp.
Aloe vera contains vitamins A, C, E, and B12, which help to promote hair growth and shine, and are thought to prevent hair loss. Add 2 tbsp.
Example African American hair mask recipe
Now that you've got some inspiration, let's look at the steps to making your very own homemade moisturiser for natural black hair.
Remember to test and swap out the ingredients to find a combination that works for you.
Ingredients:
1 tbsp UMF™ 10+ | MGO 263+ New Zealand Honey Co. manuka honey

¼ cup of distilled water

2 tbsp aloe vera gel

8-10 drops lavender essential oil
Steps:
Mix the honey, water, and aloe vera gel. Mix well.

Add the lavender drops and ensure this is thoroughly combined.

Leave it to sit in the fridge overnight to thicken up.
And just like that, your new natural hair mask for African American hair is good to go!
It might take a few uses before you notice a difference, but stick with it.
Your new luscious locks will thank you for it.
The Best Manuka Honey Scalp Moisturiser for Black Hair
"Keeping your scalp healthy is a necessary part of having healthy hair. Build up from dirt, oil, or even hair products can make this difficult.
You can use honey in scalp treatments to clean your scalp and alleviate conditions such as dandruff and dermatitis. It also has moisturizing benefits for both the hair and the scalp."
Thanks to its potent levels of antibacterial and anti-inflammatory properties, manuka honey has a long and varied history in skincare⁸.
Used to clear up acne, eczema and psoriasis, and in easing rosacea; manuka honey is a powerful healer for our skin.
So it's no surprise that there are plenty of success stories using it on scalps, too.
But if you want a more targeted approach, try simply massaging manuka honey with a little water onto your scalp before you wash your hair.
Leave it in for a few minutes and gently rinse.
By creating your own natural manuka honey hair mask, you can strengthen and protect your hair whilst nourishing your scalp all at the same time.
It's never been more fun or easy to enrich your every day.
Use New Zealand Honey Co. Manuka Honey for the Best Results on Black Hair
If you want the best results from your homemade hair mask for black hair, you need to pay particular attention to the honey you choose.
Unfortunately, many store-bought honeys can be diluted and overly processed. These won't give you the same potent antioxidant and antibacterial properties that will help to replenish your hair and scalp.
You want pure, raw, monofloral manuka honey from New Zealand, with a UMF™ grade.
This honey has been rigorously tested to the strictest standards to ensure that it is authentic, fresh, and potent in methylglyoxal (MGO); the compound associated with antibacterial activity.
Our manuka honeys are sourced from some of the best and most responsible beekeepers throughout New Zealand and are independently tested.
Glyphosate-free, UMF™-graded, and beloved by our customers, you can trust every batch is the real deal.
Click here to buy the right manuka honey for your hair.
Unsure which grade is right for you?
SUBSCRIBE TO OUR NEWSLETTER
Recieve our latest weekly releases, offers, guides and more.