It's very important to get your honey labelling right. As a honey producer, you must comply with government regulations.
Your label is a good place to build brand identity. There's a lot of room for clever marketing and playful designs to set your product aside from the rest.
The more consumers know about your honey, the more they will trust your brand. It pays to be transparent on your label.
One third of consumer purchasing decisions are based on a product's packaging.
Wow.
As if the honey market wasn't competitive enough, we've also got to make sure our jars capture the attention of our customers and make our brand stick.
The good news is, honey shoppers are becoming more aware of markers of quality.
Consumers are already inspecting jars and product labels in the buying phase.
We've just got to hit the nail on the head with our information and design, and bingo. We have a winning label.
This article will help you understand how to label honey correctly, taking into account regulations, requirements, consumer interests, and marketing.
In this guide on honey labelling and packaging:
Why it is important

What consumers want to know about your honey

What you're required to put on your label

Examples of a good honey label

Tips for honey labels - buyers and sellers
Let's start with understanding why honey labelling is worthy of time investment.
Why is Honey Labelling Important?
Honey needs a little help from its friends.
As we know from consumer demand studies, honey has largely increased in popularity over the last few decades.
Consumption is up, but production is down, leaving room for counterfeit honey to illegally enter the market.
Not only is this problematic for honey producers, it's also harmful to the trust and value that consumers place in real, genuine honey.
One way to combat this is through meticulous labelling, to separate your pure product from those that may have been adulterated.
In New Zealand, our pride and joy is manuka honey.
Its high demand and short supply means that the problems of the general honey industry are exacerbated when it comes to manuka.
But over the last few decades, New Zealand has developed high standards when it comes to honey quality, honey certification, and honey labelling.
This is why we've decided to break down honey labelling for you. We know first-hand how important it is to protect genuine honey products.
But before we get to the official honey labelling requirements, let's look at what consumers want from labels, and what information they expect to see on your honey jar.
What Consumers Want to Know About Your Honey
Honey lovers can be very particular (which is not a bad thing)!
Small honey shops in the US are finding that their customers are increasingly interested in two things: raw honeys with proven health benefits, and super local honeys that can help to mitigate allergies.
People are also becoming more knowledgeable about different varieties of honey, and using them in place of sugar.
In 2020, honey overtook white sugar for the first time in five years and became the number one preferred sweetener.
At the same time, companies everywhere are facing increased consumer demand for more transparency.
In the honey industry, this means that people want to know where their honey comes from and how it is produced. Knowing which flower the honey bees have visited, which toxins it's free from, and when it was packaged helps them feel good about their purchasing decision.
What You're Required to Put on Your Label
Let's start at the beginning, with the basics.
Here in New Zealand, honey labelling must comply with the Australia New Zealand Food Standards Code (commonly referred to as 'the Code').
Wherever you are in the world, the Code is a good place to start, since the New Zealand standard is so high. But it's important to check with your own government, so below, we've listed government guidelines from around the world to help you find the right answers.
According to New Zealand Food Safety (Ministry for Primary Industries) your honey labels must include:
Name of honey (exact name from

The Code

), and floral type

Name and physical address of your business

Best before date and storage instructions

Size of product (weight declaration) in text at least 2mm big

Nutritional Information, in a layout followed from

The Code

Amount per serving and amount per 100g

Energy and 6 main nutrient components

Servings per package and serving size
Other general conditions:
Ensure the label is in the English language and is easy to read.

Be truthful and accurate and do not mislead consumers.

The information you provide must be able to be proven.

You can make nutritional content claims, such as the presence or absence of pesticides (as long as you can back these claims up).

You cannot make health claims and therapeutic claims.
We think this guideline is pretty easy to follow to ensure that you've covered your bases. Next, we'll look at how to take it one step further.
But first, check out this comprehensive checklist that the New Zealand Ministry for Primary Industries has put together for you.
We're selling New Zealand honey, so we're sharing the regulations about honey from our perspective.
For labelling and selling honey in other markets, use the links below to guide you.
Extra resources:
We suggest having your proposed label designs approved by an independant labelling consultant in the territories that you will be selling your honey. This helps to avoid any costly headaches or expenses.
Here at New Zealand Honey Co. we sell our honey in dozens of countries and are happy to offer referrals to our preferred partners for anyone wishing to buy honey in bulk from us.
Honey Labelling Examples
Here's an illustration of MPI's requirements, and an example of how they might label a jar of honey.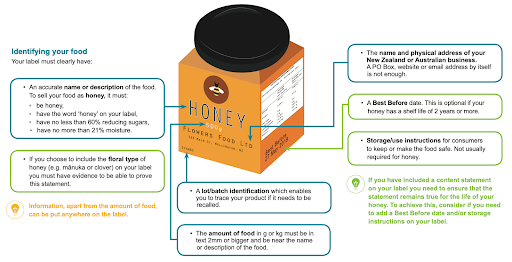 Our most popular honey is manuka honey, and when dealing with manuka honey, there are even more regulations to comply with (these are detailed on the Manuka honey page of the Ministry for Primary Industries website).
But there's more to a label than just requirements.
We've designed our New Zealand Honey Co. labels to satisfy both the MPI requirements for manuka honey, and what consumers want to see on our jars. It's our job to make them feel satisfied that our product is what they're looking for.
Read more: UMF™ vs MGO vs KFactor vs BioActive vs MGS vs NPA? Who's confused about Manuka Honey?
We aim to make it easy for people to choose our manuka honey. We know it's a premium product with a premium price tag, so we respect our potential customers by being totally transparent.
Good labelling makes for easy sales, and happier customers.
How we do it at New Zealand Honey Co.
We have manuka honey for everyone!
We supply everyday honey to premium honey, to families with young kids, all the way up to the elderly.
We try to give our consumers as much information as possible, in a tidy and succinct way.
Some of the key features on our labels are:
UMF™ grading.

This is arguably the most important information on the jar. Such a strong certification already gives a well-educated consumer a tonne of information. It's important to note that if you would like to display a UMF™ logo on your jars, you must become a member of the UMFHA.  
Read more: UMF™ Honey and the UMFHA
The MGO number.

MGO is the most widely-recognised attribute out of the five that make up genuine manuka honey. Consumers that believe in the health benefits of MGO often want to know the number.

Raw manuka honey.

We specify that our honey is raw - meaning it has not gone through rigorous processing. It's kept as close to its original state as possible: fresh from the hive!

Our other certifications.

The Fernmark License shows that we are proudly New Zealand made. We also display that our honey is halal, kosher, glyphosate free, and non-GMO verified.

You can check our accreditations here

.
Explore our Manuka Honey products to see how we label our honey.
The key lessons you can learn from our examples are:
Being clear with your information and numbers makes it easy for consumers to digest the important information.

Even a small jar of honey can fit in all the requirements and still be stylish.

The more accreditations a jar of honey has, the more established the brand looks. This helps to build trust with your customers.
There's Two Sides To A Label: Tips
Consumers: If you're looking for your next sweet jar of honey, there are probably some things you want to know (and definitely should ask).
Sellers: Your part to play is rather simple: be informative and transparent, listen to consumers, and build trust through your labels.
For Consumer
For Sellers
Check The Certifications

Are there any logos on the jar of honey that can verify it is what it says it is? Can you verify that on the certifying company's website?

In the case of manuka honey, these are: UMF™, MGO, and the Fernmark.

Display your certifications clearly on your jars.

It will build trust with the consumer and help build your strong reputation

Are There Any Other Logos?

Some honey companies (like us) also want to show you that they're non-GMO verified, halal, kosher, and glyphosate free.

As long as these logos are genuine (check license numbers if you're not sure), these are a good indicator of an established and reputable supplier.

If you have any other verifications like this, be sure to display them on your jar.

Regardless of whether the customer is looking specifically for Non-GMO honey or not, the logo can give them confidence that you're serious about your product.

Is This the Right Honey For You?

What will you use the honey for? Is this a suitable UMF grade for that purpose?

Read more: How Much UMF™ Is Enough?

You can also check out our product pages here for more information.

Make sure that your label clearly displays information that will help customers decide if it serves their purpose.

You can also include instructions, warnings, and common uses or serving suggestions. But steer away from those health claims!
Watch: What to look for when purchasing manuka honey
The Good Stuff Behind The Label
Every jar behind your labels should have top-notch honey in it!
Getting the information on your label right is a huge part of showcasing that you have a trustworthy honey product, and that you are a quality supplier.
But you don't have to do it on your own.
If it's all a bit much to deal with, leave it to the experts. We have decades of experience and have taken time to refine our approach.
If you're looking to buy honey in bulk - manuka or otherwise - we can supply you with any New Zealand honey. Just head to our contact page to start the conversation.
If you're looking for a jar or two for you and your family, click here to shop our range.
Suggested Articles For Further Reading...
SUBSCRIBE TO OUR NEWSLETTER
Recieve our latest weekly releases, offers, guides and more.